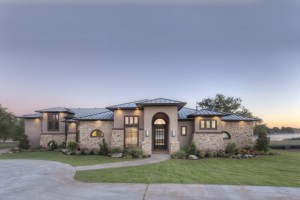 Homes by Donahoo has just been announced as the recipient of this year's prestigious People's Choice Award from the 2013 Hill Country Builders Association (HCBA) Parade Home Tour!  For those who missed it, the Tour occurred during the last two weekends in October and featured some of the most luxurious and elaborate homes in the area. But that's not all of the good news we received. In addition to the People's Choice Award, we also walked away with Best Master Suite!
Our award-winning home was constructed in the Hill Country Modern style and is located on the water in the Legends on Lake LBJ community.  It features a variety of unique features, including undulating glass walls across the backside of the house, which offer a gorgeous view of the lake. We're also quite proud of the outdoor entertainment area and its elaborate pool, spa and a fire pit.
Over 1000 people attended this year's Parade Home Tour and to be chosen as the People's Choice favorite is a great honor. The feedback we receive during these events also aids us in deciding what components and designs to feature in future homes. This award joins our others over the years, including Best Craftsmanship (2010, 2011, 2012), and Best of Parade, among others.
For anyone who'd like more information on the Hill Country Builders Association (HCBA) Parade Home Tour, visit www.hillcountrybuilders.org. And if you didn't attend this year, definitely try to come by in 2014. It's a wonderful event that stretches the course of six days, with a variety of cultural events wrapped in as well.
Thanks to everyone who voted for our home! We're looking forward to a great 2014!